Wrightslaw: No Child Left Behind
by Peter W. D. Wright, Pamela Darr Wright & Suzanne Whitney Heath
Internet Orders - Toll-free Phone & Fax Orders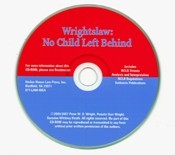 Note: Congress has begun the reauthorization of the Elementary and Secondary Education Act (ESEA), the statute formerly known as No Child Left Behind.

Due to the impending reauthorization, we will not order a reprint. If you want a copy of the NCLB statute, it is available on CD-ROM for a discounted price of $14.95.

The Wrightslaw No Child Left Behind CD-ROM includes the full text of the NCLB statute, regulations, dozens of publications, and references.
[Contents of CD-ROM]
Contents of Wrightslaw: No Child Left Behind

Table of Contents
Introduction
How the book is organized, what you will learn, navigation strategies, icons, list of publications on the NCLB CD-ROM
Section I: Learning About NCLB
Chapter 1. A Short History of the No Child Left Behind Act of 2001
Chapter 2. NCLB Law, Regulations, Caselaw
Chapter 3. Overview of NCLB by Title
Chapter 4. Frequently Asked Questions About NCLB
Section Two: How Will NCLB Affect You?
Chapter 5. Parents
Chapter 6. Teachers, Principals and Paraprofessionals
Chapter 7. Attorneys and Advocates
Chapter 8. School Leaders and Academics
Section Three: Advocacy Strategies
Chapter 9. How to Request Information (with sample letters)
Chapter 10. How to Request Action (with sample letters)
Chapter 11. How to File a Complaint (with sample letters, contact info)
Chapter 12. Research Strategies (or How to Find Incredibly Useful Information on the Internet)
Section Four: NCLB Statute with Commentary
Chapter 13. Master Table of Statutes for No Child Left Behind
Chapter 14. Title I of the No Child Left Behind Act
Chapter 15. Selected Portions of Titles II-X
Section Five: Appendices
A. NCLB Timelines
B. Glossary of Acronyms, Abbreviations and Terms
C. List of Publications and References on the NCLB CD-ROM
Index

The No Child Left Behind CD-ROM includes the full text of the NCLB statute, regulations, publications, and resources.
Copyright © 1999-2015, Peter W. D. Wright and Pamela Darr Wright. All rights reserved. Contact Us