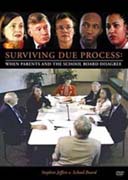 Surviving Due Process: Stephen Jeffers v. School Board has scene markers (chapters) so you can easily skip to a scene that that interests you. This feature makes it easy to use the DVD in training programs or classes.

Scene 1. The school board attorney and her paralegal begin to prepare the school board's case.
Scene 2. The due process hearing begins; the parents' case may be dismissed.

Scene 3. Stephen's parents search for an attorney to represent them.
Scene 4. The parents meet with Pete Wright.
Scenes 5. The due process hearing resumes; the school board presents its case.
Scene 6. The special education teacher testifies.
Scene 7. The occupational therapist testifies.
Scene 8. The director of special education services testifies.
Scene 9. The due process hearing continues; the parents present their case.
Scene 10. The child psychologist testifies.
Scene 11. The supervisor of Stephen's program testifies.
Scene 12. The school principal testifies.
Scene 13. Stephen's mother testifies.
Updates on the Case

Surviving Due Process: Stephen Jeffers v. School Board is based on an actual case. The parents prevailed at Due Process, lost at the U. S. District Court, and prevailed before the U. S. Court of Appeals for the Fourth Circuit.

Learn More About Surviving Due Process . . .
Read the Story
Meet the Cast
Scenes
Internet Orders
Fax & Mail Orders

Back to Top